Apple's "iPhone Reuse and Recycle Program" detailed, will begin rolling out August 30th
10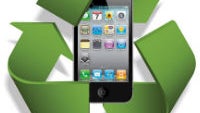 If this bit of news turns out to be true, it is something of a surprise. We had assumed that Apple wouldn't launch its rumored
iPhone trade-in program
until the new iPhone 5S is released, but the new word is that the so-called "iPhone Reuse and Recycle Program" will actually begin rolling out starting August 30th, and will become widely available by early September.
Word has it that almost all iPhones will be eligible for trade-in. The only model that won't be accepted is the original iPhone, everything from the iPhone 3G and newer will be eligible. The way it will work is that when a customer comes in looking for a new iPhone, the Apple Store employee will check on how much trade-in credit the customer could get for their old iPhone. This will be done directly in the EasyPay system that all Apple Store employees have in their hands to help with purchases.
Once you agree to trade-in your device, you won't be able to get it back, but you will be given a chance to backup your data (and help doing so if you need). Customers will get a gift card for the trade-in credit, which will only be able to be put towards a new iPhone purchased at that time and activated at that time as well. To complete the trade-in, you will put your old phone in a plastic bag, the Apple Store employee will give you your old SIM-card and help you set up your new phone if need be.
Of course, the rumors say that you won't be getting as much value for your device through Apple as you could elsewhere. Trade-in prices are said to fluctuate based on demand for certain models; but supposedly an unlocked, undamaged 16GB iPhone 5 will be worth around $279, and an AT&T 16GB iPhone 5 will be worth $253. For comparison, you could get $330 for either of those right now on Gazelle and with Gazelle you can lock in that cost right now and it will stay for 30 days. Apple is reportedly going to offer between $120 and $140 for a GSM 8GB iPhone 4, while the CDMA version will be worth around $80.
The program is said to start in select Apple Stores this Friday, August 30th, and it will become widely available in the U.S. by early September, which would imply that it will be up and running before the reported iPhone 5S/5C release on September 20th.
And, contrary to earlier rumors, the iPhones taken for reuse will not be shipped to emerging markets, but will be refurbished for U.S. consumers, and this will supposedly be part of a new push by Apple to show its commitment to the United States, likely to combat Motorola's Moto X marketing. Also, unusable iPhones will be accepted, though they won't be worth anything on trade-in, and will be recycled through BrightStar.