Apple's WWDC 2014 conference to be held between June 2-6
27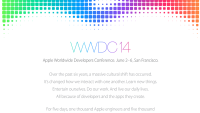 Apple's WWDC 2014 website went live. Itconfirms that the event will be held between June 2-6 in SanFrancisco's Moscone West. This year, tickets to the event will besold on a lottery basis. Members of the iOS Developer Program, iOSDeveloper Enterprise Program, or Mac Developer program need toregister by April 7 at the website, and hope to win the opportunityto procure a $1599 WWDC ticket. Purchases must be completed by April14 at 5PM PDT.
Chinese analyst Sun Chyang Xu suggestedthat Apple will reveal the iPhone 6 at the conference. For somereason, these rumors go wild each year as WWDC approaches, but theyare yet to come true. Granted, the iPhone 3GS and iPhone 4 were bothannounced at WWDC keynotes, but since then, Apple's flagshipsmartphone has been getting its own dedicated events. In addition,Apple has been making only software and PC-related announcements atWWDC for the past three years.
All things considered, we aren'tholding our breaths for any iPhone announcements in June. Then again,who knows - the latest rumors claim that 4.7-inch screens for theiPhone 6 will be going into mass-production in May. While we'resceptical for now, we acknowledge there is a slight chance for asurprise iPhone 6 announcement.
source: WWDC2014