Apple's "Let's talk iPhone" event video posted, how did CEO Tim Cook fare?
53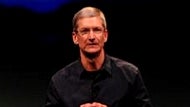 Well, there wasn't a "one more thing..." or any other iconic phrase coming out of the first major keynote that CEO Tim Cook had to endure instead of Steve Jobs, but it all went like a dress rehearsal.
Apple wasn't short on superlatives about any product or service they announced or reiterated tonight, hoping to create the same kind of aura all Apple events with Steve Jobs have managed to pull off so far.
Overall, it was more of a
team effort
rather than the one man show that Steve Jobs's presentations usually developed into, and it might be an indication of how Tim Cook intends to run the company. How do you think the new CEO fared handling the event announcements?