Apple App Store celebrates its tenth anniversary this Tuesday
13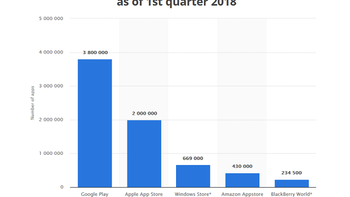 This Tuesday, the Apple App Store celebrates its tenth anniversary The store opened for business with 500 apps on the shelves on July 10th, 2008. The other day,
we took a look back at the most popular iOS apps from 2010 to 2018
. Now, to show how the debut of the App Store changed the way people use their phones, approach their jobs and live their lives, Apple posted a list of quotes from iOS users, app developers and Apple executives, explaining how they were affected by the launch of the App Store.
How important is it to have a platform feature a fully stocked app store? Ask Microsoft and BlackBerry. The demise of Windows Phone and BlackBerry (pre-Android BlackBerry, of course) can be blamed largely to the dearth of apps available to both platforms.
"There was an incredible sense of anticipation and excitement the day the App Store launched, and getting to see MLB At Bat listed among the first 500 apps, but we don't think anyone realized then the immense impact these apps would have on the ways fans experience sports. We feel fortunate to be part of the historic growth of the App Store these last 10 years. It's exciting to think what opportunities the next 10 will bring as we continue working with Apple to connect fans more closely to their favorite teams and the game of baseball."-Chad Evans, senior vice president, Product Development, Major League Baseball
"Since day one, the App Store has been by far the easiest way for developers to reach the most people with our apps. It eliminated the friction and overhead of setting up our own distribution and payment systems, making development far more accessible to everyone and letting us focus on our true passion: making the best apps we can. Over its 10 years so far, the App Store has developed into the richest, most diverse, and most accessible software ecosystem the world has ever seen."-Marco Arment, longtime iOS developer
"The App Store and iPhone changed our lives. Our first game, Imangi, launched the day the App Store opened. Fast forward 10 years, and we've created over 10 games, including Temple Run, which has been downloaded over a BILLION times. Our studio has grown from the two of us to a team of 35. None of this would have been possible without the App Store."-Keith Shepherd and Natalia Luckyanova, co-founders, Imangi Studios
"In its first decade, the App Store has surpassed all of our wildest expectations — from the innovative apps that developers have dreamed up, to the way customers have made apps part of their daily lives — and this is just the beginning. We could not be more proud of what developers have created and what the next 10 years have in store."-Phill Schiller,senior vice president, Worldwide Marketing, Apple
Happy 10th Anniversary Apple App Store; may the next ten years be just as exciting as the first ten were.