Apple sued by Portuguese reseller for 40 million EUR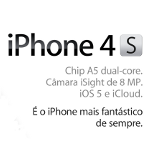 "Apple arrived in Portugal in 2007 and the following year, usurped the distribution channels that were assembled by Interlog for over 20 years, taking over from our distributors."-
Taboada & Barros, Apple distributor in Portugal
A few days ago there was talk that Apple would be sued by a consumer rights group in Portugal over
the wording of its AppleCare warranty service
. As if that wasn't enough courtroom drama for the Cupertino based tech titan in the country, it turns out that an IT reseller and distributor by the name of
Taboada & Barros
was already suing Apple for 40 million EUR (approximately $49 million) for unfair trade practices
and price-fixing.
Portuguese language blog iPhone Tuga, passing along information gleaned from the Weekly Sol says the action by
Taboada & Barros
dates back to February, but was only made public now in light of the
Portuguese Association for Consumer Protection (DECO)
case with AppleCare. In Italy, Apple had lost a similar case about its warranty and was fined $1.2 million. The litigation has no such precedent.

Taboada & Barros
controls
a large Apple distributor called Interlog
which claims that Apple intentionally limited the amount of products to be distributed by third party firms resulting in Intelog's failure. At the same time, Apple was getting more involved in the country. For online sales, Apple has its own dedicated site but relies on third party resellers for physical sales.
A post on Portugal business news site Economico from May 2011 revealed how back then, with Interlog having failed and no further Apple iPhones or Apple iPads getting shipped into the country, some retailers were saying that they had unfilled orders for devices like the Apple iPad. Weekly newspaper Sol passed on the word from a source at
Taboada & Barros
that in addition to limiting the amount of new product to go to third parties, Apple
renegotiated the margins that third party resellers could earn from 12% down to 4%
, in effect cutting resellers profits by two-thirds on Apple devices. The source said that, "
Apple unilaterally established products, prices and quantities to be sold to large retailers

."
Both the
huge cut in margin and the lost sales
make up the 40 million EUR that T&B is asking for in the suit.
As for Apple, it would seemingly like to control the bulk of sales in the country of Apple products. Right now, thanks to its website it controls online sales. Physical sales might be next. Limiting supply and cutting resellers' margins are doing the trick, but a Portuguese Court
might put the kibosh on the whole scheme
. Only time will tell.
source
:
iPhoneTuga
via
TechCrunch