Apple stores provide communication for earthquake victims in Japan
7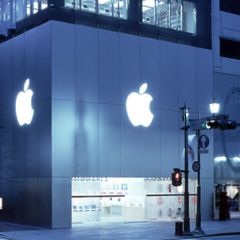 The earthquake in Japan has left many people without means of transportation and communication. And during such a tragedy, your first priority is checking in with your loved ones. According to an
Apple
retail manager in Japan, droves of earthquake victims have been using the Apple store as a communications hub.
"With the phone and train lines down, taxis stopped, and millions of people stuck in the Tokyo shopping district scared, with no access to television, hundreds of people were swarming into Apple stores," said the unnamed manager. Quite aptly, the manager compared this to the monster-movie scenario in which city-dwellers huddle around the electronics store's televisions.
Rather than turning away the mass of people, Apple employees offered them surge protectors and
iOS
device adapters. Even after they closed for the night, the manager reports that many citizens huddled in front of the store in order to continue using their Wi-Fi. And many Apple employees volunteered to stay after-hours with them, in case they needed any on-site tech support.
Even during the initial quake, Apple employees led customers under their sturdy wooden display tables. Apple's corporate office then allowed employees and their families spend their nights in the Apple stores, and offered to reimburse them for their travel expenses. We know this response is a blend of genuine compassion and corporate positioning, but it's still heartwarming.
To further contribute to the
relief effort
, Apple is accepting donations on iTunes. Meanwhile, AT&T and Verizon are offering free communication to Japan through March.
source:
Kevin Rose
via
AppleInsider