Apple sells 47.5 million iPhones during its fiscal third quarter; stock plunges
58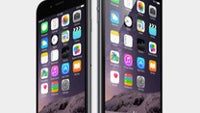 Apple slightly beat estimates for iPhone sales during its fiscal third quarter, selling 47.5 million units of its iconic smartphone. That is a 35% year-over-year increase in unit sales of the device. Wall Street was looking for the company to report sales of 47 million iPhones for the period. Handset sales made up 63% of Apple's total revenues of $49.61 billion. The average price of a purchased iPhone rose by more than $100 to $662.42 thanks to the pricier
Apple iPhone 6 Plus
. Overall, iPhone sales rose 59% in dollar terms to $31.37 billion. "
The gap is widening between us and our competitors
," said Tim Cook, Apple CEO.
This was the first quarter that included the new Apple Watch, but the tech titan did not separate sales of the timepiece. Instead, Apple included it with a category called "other products." Revenue of that category rose year-over-year by 49% to $2.64 billion. Mr. Cook noted that the product is available in only 1% of the locations where the iPhone can be found.
The Apple iPad continued to run into problems. For the sixth consecutive quarter, unit sales declined, this time by 18% year-over-year.
Because Apple just barely beat the Wall Street estimate for iPhone sales, the stock is getting smacked by investors. In after hours trading, Apple's shares are down more than $9 from Tuesday's close, trading at $121. That is a decline of nearly 8% since the earnings were announced.
source:
WSJ