Apple patents the Active Stylus for iOS
92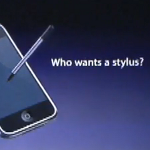 your finger
. From that moment on, Apple has never come close to embracing the stylus. That is, until now when the Cupertino based tech giant received a patent for the "Active Stylus".
The "Active Stylus" is a stylus that does more than just help you input a touch on a screen. Your regular everyday stylus works by blocking electric lines. Instead of being passive, like the current stylus, Apple's tool would have the capability to create its own electronic field and couple signals with the main device. This could increase the speed and accuracy of the stylus and eliminate the lag that some S Pen users have complained about. Despite the lag, the S Pen has become extremely popular, so much so that
speculation has Samsung including it with the Samsung Galaxy S IV
. And we would say that the popularity of the S Pen comes from its ability to be more like a
marker or a crayon
rather than a touch input like Steve Jobs was thinking about when he dissed the stylus in 2007.
While Apple listed the Apple iPhone and Apple iPad as a couple of devices that could benefit from the "Active Stylus," there is no guarantee that the device will soon be produced. But the guys in Cupertino could feel a lot of pressure to make the "Active Stylus" a reality if the Samsung Galaxy S IV supports the S Pen.
source:
PatentlyApple
via
RedmondPie