Apple iPhone 6 Pro concept includes heart rate monitor, iController and A9 processor
52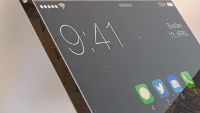 It is that time of the year when leaks about the next iteration of the Apple iPhone meld with concept designs for the device. We've seen our share of concept versions of the
Apple iPhone 6
, and this newest one might have some of the highest specs for both cameras and the processor. Of course, when you're dealing with a concept, you can almost make the components whatever you want them to be. And as you will see, you can also create an interesting accessory.
This concept device is titled the Apple iPhone 6 Pro, and features a 3MP front-facing HD camera. The phone is 7.2mm thin, which is slightly thinner than the 7.6mm thickness of the
Apple iPhone 5s
. A notification light is added to the device, but at the bottom of the unit instead of the top. And while Steve Jobs hated the stylus, perhaps he won't roll over too much in his grave when he sees the iStick. This accessory neatly slides into its home at the bottom of the model. On back, is a 16MP Ultra HD Camera. A heart rate monitor is on board.
This iPhone 6 concept slides into a separate device known as the iController, which looks like a game controller from one of today's consoles. Once your phone is docked inside, the iController projects games on the wall. We're not sure how many people would rather view a game on a wall when they can see it on an HD screen on their phone. What might be useful is the holographic QWERTY that is projected. That is something we've seen before in other iPhone concepts. The Apple iPhone 6 Pro is powered by an A9 processor and runs iOS 8. The size of that luscious edge-to-edge screen was not revealed.
Some concepts are developed around a large dose of reality, while others are way out there. This concept you can file in the latter folder.
Thanks for the tip, Ran.
source: CIP (
1
), (
2
)