Apple iPhone 5 has three microphones and HD voice support, what's in it for you
16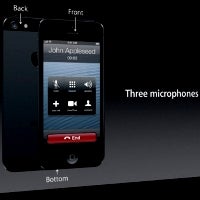 The Apple iPhone 5 showed up with not one or two, but three microphones - front, back, and on the bottom of its case. We had the Huawei Ascend Mate ensure stellar call quality with The iPhone 5 also supports wideband audio, which is popular under its commercial name
HD voice
, but about 80 handsets currently, among which a lot of Android handsets, also support it.
What are the potential benefits from this three-mics setup on the iPhone 5, though? First, the microphones - three means now Apple can use some advanced beam-forming directional audio techniques. Beam-forming uses two or more microphones pointed in different directions with a narrower coverage fields for picking up targeted sounds.
This getup can virtually
eliminate background noises
, and only relay crystal clear sounding voice to the caller on the other side, for example. It can also help with recording fuller audio in your 1080 video footage taken with the iPhone 5, improve Siri's recognition of your accents, make for clearer conference and FaceTime calls, and so on.
Speaking of voice clarity, the wideband audio function, or HD voice, in the newest iPhone, doubles both the sound spectrum width and the sampling rate, bringing it
closer to the true human speech range
, so voices come out exceptionally loud and clear, with half of the bandwidth needed by traditional solutions. Currently about 45 carriers in 35 countries support HD voice on their network, and Apple said it specific implementation in the iPhone 5 is compatible with 20 of those, but didn't give specifics.
In the US, only Sprint is out with HD voice capability, but
not the type you'll find in the iPhone 5
, although when the carrier rolls its LTE network next year, high-def VoLTE could be an option, judging from Apple's handset specs. Ditto with Verizon, AT&T, and the others with LTE networks, which said they will be rolling VoLTE. Qualcomm's radio supports this in theory, but it's not a matter of simple software update for the iPhone 5, when the US carriers launch it, so we might see it fully supported with next year's iPhone at the earliest.
Europe is ahead in HD voice implementation, as it has agreed on a de facto standard, and now more than 10 carriers there, amongst which DT, support it, about six in Africa have it, Telstra in Australia, and so on. It remains to be tested how much of a difference would the high-def voice transmission make on compatible networks, and we are sure comparisons with the iPhone 4S will start popping up soon enough after the iPhone 5 launches.