Apple found to violate a Motorola patent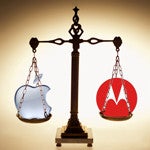 It seems that Google's Motorola purchase gamble is starting to pay off, at least as far as the patent defense part of it is concerned. Apple just got served with an infringement opinion regarding the Wi-Fi implementation in its iPhone and iPad, which is one of the four patents Motorola claims Cupertino is violating in those devices.
ITC judge Thomas Pender was the source of the partial ruling, which has the implication of stopping the import of Apple's mobile devices on US soil, if they violate patents held by a US company.
This preliminary ruling will be a subject of review before the six member commission that actually has the power to ban imports, and it is highly unlikely that the judges there will approve something as drastic, but Google surely is more confident in Motorola's patent firepower now, and settlement money might be bound to change hands.
Hopefully the mobile patent infringement game that spans four continents and many countries will reach a stalemate status this year, so we can all put the nonsense behind and start focusing on more productive forms of competition.