Apple begins to roll out iOS 4.1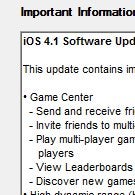 We're pretty sure that a handful of iPhone owners have been feverishly checking out iTunes all throughout this morning to see whether or not Apple decided to push out iOS 4.1. It appears that the release is at a full go as a quick visit to iTunes reveals that iOS 4.1 is now available for the download. The hefty sized 590MB file should take some time to download, but we're pretty sure that there are plenty of people itching to experience the latest features that it has to offer.
Conversely, it'd be a wise idea to stay away from installing this update if you happen to be running a jail-broken device until some thing comes along the way to correct it. But for everyone else, just be sure to backup all of your data before proceeding to install the update. Again, iOS 4.1 brings forth a myriad of new features such as high dynamic range (HDR) photos, Game Center, and a host of bug fixes such as one that resolves the issue with the iPhone 4's proximity sensor.
Apple iPhone 4 Specifications
|
Review