Apple allowed to start 'occupation' of Apple Park
41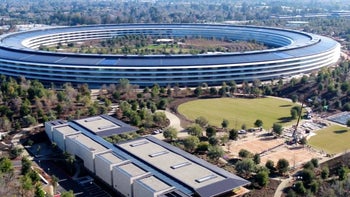 An aerial view of Apple Park
Apple Park
- the company's future headquarters, built in Cupertino, California. Often referred to as 'the spaceship' and 'Apple Campus 2', the massive building is taking the next step of its existence. Starting next week, employees will be moving from their current work space - Apple Campus, to the five (out of 12 total) currently finished sections, with the rest still in the making. An employee, lucky enough to be of the first who will undergo the workplace change, even tweeted his joy out:
Last day at the Loop. It's always felt surreal to be in these buildings where so much has happened. Next week starts at the new campus, Apple Park, where new history will be made.

— Brian (@littlebluebro) January 25, 2018
When is Apple going to move rest of its employees to the new HQ? Well, seven parts of the building are still under construction, and are expected to be ready by March of this year. An official occupancy permission is needed in order to move in employees in a building not finished yet, and they've got that only for five sections. To get such a permission the company had to cover specific requirements to ensure its employees' safety. Cupertino building official Albert Salvador had this to say:
For example, if a building (or portion of a building) is complete but the site work is still under construction, I would be able to grant a temporary occupancy as long as there is a delineated path to allow the occupants of the building safe passage to a public right-of-way. I would not issue a final certificate of occupancy until all the work is complete on the entire site. Appropriate barriers are required to keep occupants away from any portions of the building or site where construction is still in process.
The new home of Apple began construction back in 2013 and was originally planned to open for employees in April 2017. It turned out to be a harder task than thought initially, as by August of 2017 Apple had occupancy permission for two areas only - the Story Office Building and the central utility plant. There were some good news though, as the company was allowed to open the visitors center and, briefly, the Steve Jobs Theater, where it
held an event
, presenting the
iPhone X
and
8
/
8 Plus
.
Facts wise, Apple Park occupies an area of 2,800,000 square feet (no wonder they missed the construction deadline), and, when finished, will be home to the creativity and innovations of over 12,000 employees. It has every feature needed to make a person feel comfortable including a café with 3,000 seating places and a 10,000 capacity wellness center (if you work for Apple and you're out of shape, you've got no excuse). Another highlight is the fact the electricity needed will be produced only by solar panels, making 'the spaceship' one of the most energy-efficient buildings up to date. Oh, and let's not forget the cost of this project - $5 billion. Money well spent.