Apple 'E-Wallet' icon spied on U.S. patent awards
2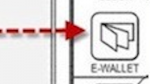 The next generation of the iPhone (iPhone 5?), is expected to come with
Near Field Computing
chips, that will allow your iPhone to be used as a virtual wallet, in addition to many other functions. And a recent patent award from the U.S. Patent and Trademark Office shows an encouraging "e-Wallet" icon.
The "e-Wallet" icon could just be a preliminary mock-up, but it's a harbinger of great things to come for the iPhone. After all, Android competitors like the
Nexus S by Google
are including NFC functionality, so the iPhone has to keep pace. Additionally, Apple might be able to subsidize payment stations to major retailers, or even offer them for free in order to boost iPhone sales.
Although Google hasn't yet activated support for
mobile payments
on the Nexus S, they have already begun to stake their territory with NFC decals that make retailers more interactive. Apple may attempt to do the same, or establish a foothold in widespread NFC advertising, that would make everything from a road-sign to a movie-poster an interactive experience.
What do you want from your
NFC experience
? The sky is the limit.
source:
Patently Apple
via
Electricpig