Apple: 99% of people who have an iPhone love it
99+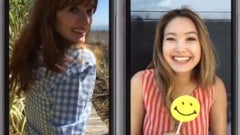 Apple today released two new promo videos to emphasize the fact that the iPhone is like no other handset out there.
Both videos are 30-second short, and end with the same tagline. The first new short clip, titled
Loved
, simply tells us that "99% of people who have an iPhone… love their iPhone." We're not really sure if Apple conducted a survey among
iPhone 6
and
iPhone 6 Plus
users in order to reach this conclusion. Recent
consumer satisfaction surveys
actually show that iPhone 6 users aren't as happy with their device as owners of other smartphones. Of course, this doesn't mean 99% of those who own an iPhone 6 can't love it.
The second new video,
Hardware & Software
, tells us how Apple designed both the software, and hardware of the iPhone, this making the device work better. "When you design the whole phone, all the parts work together as one amazing part," Apple says.
As for the tagline that we mentioned above, here it is: "If it's not an iPhone... it's not an iPhone." Check out the two videos below.