Apple pays Samsung $770 million display penalty and 'doesn't trust Korean suppliers'
17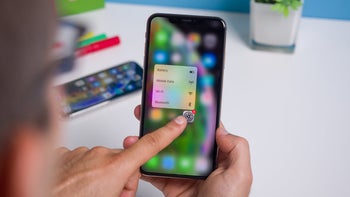 Samsung reported surprisingly good Q2 earnings last week, considering the slump in demand around many of the industries it covers, and now we know why. Remember the rumors that Apple had reportedly ordered
100 million OLED panels
it signed a contract for but a lot of those were never used due to the tepid iPhone demand cycle?
Apple allegedly signed a contract for a 100 million screen panels at about $70 apiece, making iPhone displays the most expensive part in them by far. Those were the days when Apple hoped its unique Face ID technology will be gobbled up by iOS users worldwide, and it jacked up the price of the first handset that had it - the iPhone X - to unseen heights.
Fast forward to 2019, and not only the iPhone X didn't do as well on the market as predicted, but also the subsequent iPhones with OLED displays aren't selling as well as hoped for various reasons. Samsung built those dedicated Apple production lines, but the bonanza of iPhone panel orders never came, as folks are holding their handsets for longer now, and were unimpressed with Apple's OLED-equipped offerings that go for much more than their LCD-laden predecessors.
Thankfully, Samsung has good contract lawyers who managed to wiggle compensation language in the case of missing orders. Korean media is
reporting
that the mysterious 900 billion won sum (about ($765.5 million) that appeared as a lump income in Samsung Display's earnings is precisely the compensation amount that Apple has offered Samsung.
On one hand, there was a claim that Apple has already paid Samsung hundreds of millions of dollars to make up for the lost business that brought Samsung Display's earnings drastically down - from $4.9 billion in 2017 to $2.3 billion last year. On the other, Apple has reportedly offered to order OLED panels for other products than the iPhone, including iPads and Macs, as a means to ramp up production, said one unnamed "industry official." Of course, the two aren't mutually exclusive, as Apple may have simply pre-paid for those rumored future orders, too.
In any case, Samsung Display is now $770 million richer, and the amount may have very well come from Apple, whose pivot to OLED panels isn't panning out as it hoped. In another interesting
Korean report
today, Apple is apparently weary of local suppliers, and is working with a broker that can vouch for them, in this case LG Electronics' Center for Material Production and Equipment Innovation.
The center is in hot water now, going into am explanation mode that it doesn't take "bribes" from suppliers to suggest them to customers, but simply takes fees for its services. According to one LG exec local suppliers would have had a hard time working on Apple device, for instance, if it weren't for them:
Apple, for instance, doesn't trust the Korean suppliers enough, and would never deal with them one-on-one, let along sign a contract. Otherwise, the deals could have never happened. By going through us, the suppliers get to sign on with Apple. The chicken or the egg.

While the LG center exec gives this as an example that their supplier brokerage department is actually adding value by exposing Korean firms to world-class customers and production practices, the Apple bit caught our attention for another reason.
So powerful is Samsung's near-monopoly on small high-end OLED screens that Apple, apparently averse to direct meetings with suppliers and signing contracts with them, had to sit down and do just that if it didn't want to fall behind the times in screen developments. Alternatively, Apple's reported aversion to contracts with Korean suppliers might have stemmed precisely from the one it signed with Samsung that has now forced it to part with the lofty sum of $770 million for booked but underutilized capacity.
Recommended Stories