Angry Birds Epic is out now for Android, iOS, and Windows Phone devices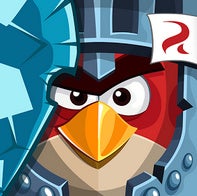 Gather around, gamers!
Just as we told you several days ago
, Rovio today released its latest Angry Birds title, Angry Birds Epic, on iTunes, Google Play, and the Windows Phone Store. This game is unlike any other representative of the Angry Birds series, as it is a... turn-based RPG, which allows us to take part in the blood feud between the bad piggies and the vengeful birds, which fight each other in a fantasy world that is brimming with magic.
Similar to previous installments of Rovio's popular series, the plot of Angry Birds Epic revolves around the theft of some eggs. Of course, the culprits are no other, but the notorious green swines. The colorful avians can't just leave their unhatched offspring to their fate, so it comes to no surprise that a party of notable and, undoubtedly, heroic birdies embarks on a perilous journey to regain the eggs in question. The leaders of the piggies, Prince Porky and Cactus Knight, will do their best to avert the birds' plan.
Similar to any other role-playing game out there, each of the characters in Angry Birds Epic has its unique abilities and weaknesses. Thus, it comes to no surprise that players will have to employ different strategies in order to beat the piggies, as the difficulty of the game gradually increases. Simply hacking and slashing your foes won't do any good, just the contrary, in fact – you'll need to plan your moves carefully, otherwise you'll quickly suffer defeat. Ouch.
You can go ahead and download Angry Birds Epic on your iOS, Android, and Windows Phone devices for free, but don't be surprised that the game has a number of in-app purchases – after all, we are talking about Rovio here, folks. Still, Angry Birds Epic seems like a surprisingly successful turn-based RPG game. Fans of the series should definitely give it a try.
You can check out our full review of the game
here
.
Download: Angry Birds Epic (
iOS
|
Android
|
Windows Phone
)
source:
Angry Birds Epic
via
WMPoweruser
,
MacRumors