Android N brings a bunch of new ways to switch apps
30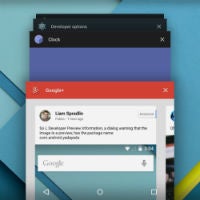 There are a lot of changes in Android N and most of the coverage will be about the big things like the new split-screen view and improvements to Doze, but there are also a number of smaller changes that will probably make things much easier for everyday use. One of those smaller changes that could be huge in general use are the new features in switching apps.
The main change is a new double-tap option on the square navigation button (aka the multitasking button, the recents button, or the overview button). For the most part, double-tapping that button will bring you to the last app that was open. In practice, this means that if you're in an app, double-tapping will switch to the previous app, so you can switch back-and-forth. And, if you're on the homescreen, double-tapping will reopen the last app (as you can see below).
Additionally, if you tap the recents button to bring up the scroll of apps, you can keep tapping to scroll through one-by-one, and when you stop, it'll pop into that selected app. Lastly, you can use the square button to get in and out of the new split-screen mode. Long-pressing the button when in an app will switch you into the split-screen mode, and if you're already in split-screen, long-pressing will bring you back to full screen.