Analysts brace for BlackBerry to post worst quarterly sales in 9 years
88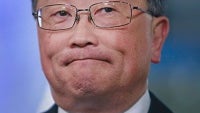 Referring to BlackBerry's hardware sales as "empty calories," Goldman Sachs is wondering if the company should be making phone at all. BlackBerry CEO John Chen is
certainly pondering the idea
of the enterprise becoming a software and services company.
UBS is outright saying BlackBerry should exit the hardware space. Other money-types will be listening very carefully to BlackBerry's fiscal fourth quarter and fiscal 2015 results, and 2016 forecasts on Friday.
Estimates are floating the BlackBerry will post revenue of $790 million for the fourth quarter, which is 20% lower than the same period last year, and the worst sales number since 2006. Wall Street also expects net revenues to be written in red ink this time around.
One of the demons BlackBerry is contending with is that many of its sales are arguably being deferred to the next year, a result of a delayed debut of the BlackBerry Classic, both directly from BlackBerry and carrier partners in various markets. Quarterly sales of as many as 400,000 BlackBerry Classic smartphones will be an item for Warterloo's first-quarter fiscal 2016 calendar, not terrible, but it does not help in the here-and-now
where Morgan Stanley says
as few as 8,000 BlackBerry Passports and Classics have sold combined, though that is still up for debate.
It does not help that BlackBerry's margins on hardware are so lean it washes out other areas where the company is arguably positioning itself to make more money, such as software. BlackBerry CEO John Chen will be talking a lot about the road ahead for software and other services it hopes to monetize, like BlackBerry Messenger.
Is this death knell for BlackBerry? No, but it reignites suspicions about the company's relevance in the hardware space, an issue that John Chen has been working furiously to turn around. Could these numbers, and as a result investors, make BlackBerry reconsider its plans to release "several" new phones in 2015? That is a distinct possibility.
source:
Financial Post