Amazon chops the price of the HTC EVO 4G in half to $99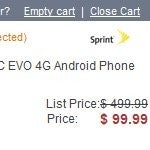 Seven months and still going strong, the HTC EVO 4G seemingly changed many things along the way as it undeniably was one of the more memorable smartphones released in recent memory.
Matching its high performance in every way was its never relinquishing on-contract price of $199.99 – which stands even to this day through the wireless carrier. However, Amazon has
chopped its price in half
to a mere $99.99 after being available on the market for over half a year now. The pricing isn't shabby at all when you take into consideration its massive 4.3" display, 1GHz Snapdragon processor, 720p video recording, 4G connectivity, and front facing camera for video chat.
So if you're looking to start a new contract with Sprint, now seems to be the prime time to jump on this fantastic deal for the HTC EVO 4G. And did we mention that the
pristine white version
of the handset is also available for $99.99?
source:
Amazon