Amazon, Apple and QVC are where shoppers on the go, go
2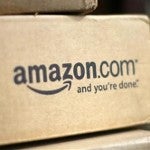 more satisfied
doing their shopping with Amazon than any other mobile retailer. Amazon scored 85, beating out Apple and QVC, both of which scored an 83. Target, Victoria's Secret and Barnes and Noble were the most improved retailers, over time. The 6,200 shoppers that participated in the survey responded between Thanksgiving and Christmas, the busiest shopping period of the year. Of the top 25 mobile retailers that were named in the survey, the overall score of 78 for 2012 beat the prior year's score of 76.
The study also took an indepth look at the practice of "Showrooming," which is when a shopper standing inside a retail store goes online using a smartphone or tablet to check a competitor's app or web site for a lower price on a specific product. But interestingly enough, while 70% of shoppers in a brick and mortar store admitted to checking a store using a mobile device,
62% of them
were checking the online app or web page for the store that they were in. 37% were actually Showrooming.
"The mobile platform is maturing much faster than the PC platform. We see it in the rate of consumer adoption, and fortunately we are seeing it in how well the top retailers are adapting to multichannel consumers who are embracing yet another powerful tool. But retailers shouldn't get too comfortable because change is just about the only thing you can count on. Consumers expect retailers to provide a consistent and seamless experience, regardless of the channel."-Larry Freed, president and CEO,ForeSee

"Customers are using their mobile phones as integrated parts of their shopping experience. Mobile is the ultimate companion channel, making showrooming as much of an opportunity as it is a threat. Retailers need to engage their customers equally well through all channels, especially through mobile sites and apps, or risk losing customers and sales to competitors that do a better job of meeting their needs."-Eric Feinberg, Senior Director of Mobile, ForeSee
source:
BGR