Alternative power: 10 awesome USB charger replacements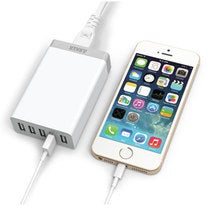 Remember when pretty much every phone maker had its own, proprietary wall charger and charging connector? Remember how frustrating this was? The lack of a unified charging standard made it impossible to recharge a phone unless you had its specific charger on hand – you couldn't recharge a Samsung phone with an LG charger or vice versa.
Thankfully, the process of recharging a phone makes much more sense today. The great majority of modern phones can be recharged from any wall charger with a USB output, and when there's no such charger lying around, a computer's USB port can be used instead. And if you ever need a spare USB charger, there are dozens of options to pick from. Accessory makers have come up with chargers of all shapes and sizes – some can charge several devices at the same time, while others come in the form of beautiful desktop stands. Check out some of these alternative USB chargers in the slideshow below and tell us which one you'd replace your stock charger with!