Alcatel Pixi 4 smartphone line-up hands-on
4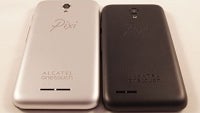 Alcatel is pushing the value proposition with a host of product announcements during CES 2016, all geared to be affordable and functional.
Technology in general is becoming so proficient that it is easy to lose sight of the fact that hardware like the new Pixi 4 3.5-inch smartphone would have cost many hundreds of dollars a few years ago. Now, a device that is about the size of the original iPhone, a smartphone that at the time cost $500, and better hardware can be had unlocked for a fraction of the price.
The Pixi 4 4-inch offers a slight bump in specifications and hardware, as well as available dual-SIM compatibility, but is an equally accessible handset for emerging markets.
Design
As is the case with devices on this entry-level tier, the design is functional. Trying to get too elaborate with various aesthetic cues can complicate the manufacturing process and increase costs, so the Pixi 4 (3.5) and the Pixi 4 (4) are basic looking smartphones.
Displays
As their nomenclature indicates, the Pixi 4 (3.5) has a 3.5-inch HVGA resolution display, 320 x 480 pixels. That works out to about 165 pixels-per-inch. Of course, on a display this small, working in anything with higher resolution defeats the intended purpose of the phone. The Pixi 4 (4) has a 4-inch WVGA display, 480 x 800 pixels, which offers up 233ppi.
Processors and memory
Running the show on these devices are two different chipsets from MediaTek. The Pixi 4 (3.5) moseys along with a dual-core 1GHz CPU while its bigger brother, the Pixi 4 (4), uses a quad-core 1.3GHz chip. Both smartphones have 512MB of RAM and 4GB of expandable storage.
Interface and functionality
Alcatel keeps Android largely unfettered with significant bloatware, save for things like an FM radio and some functional features. The Pixi 4 (3.5) will ship with Android 5.1 Lollipop while the Pixi 4 (4) will land with Android 6 Marshmallow. Functionally, both devices are full featured entry level smartphones, but do lack a couple of the more recent feature sets, like fingerprint sensors or NFC.
Cameras
It will not surprise anyone that the camera sensors on the new Pixi phones are not the highest resolution units in the business, but Alcatel includes a number of creative and fun features with the cameras, like Polaroid software that allows special effects, borders, and eases sharing.
The main camera on the Pixi 4 (3.5) is a 2-megapixel unit, and the Pixi 4 (4) has a 5-megapixel camera. The front facing cameras on both are VGA, and an optional feature altogether on the 3.5-inch Pixi. The 5-megapixel camera on the Pixi 4 (4) will capture 1080p video at 30-frames-per-second.
Pricing, release date, and expectations
Emerging markets will be first to get these devices, Latin America, parts of Europe, the Middle East, and Asia. Pricing was not announced, but expect the Pixi 4 (3.5) to start somewhere south of €40 with the Pixi 4 (4) priced a little higher depending on SIM configuration
Devices like this make it much easier for developing markets to access new technology, and Alcatel's aggressive push with this segment this year shows there is still a lot of growth to foment. Release dates were not announced, but first quarter of 2016, possibly early second quarter, will see new Alcatel Pixi 4 available for sale.