Acer ICONIA TAB A510 hands-on
1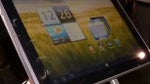 Besides its decent pricing, the
Acer ICONIA TAB A500 didn't stand out
as much over other Honeycomb tablets early last year – eventually being lost in the mix after the Asus Eee Pad Transformer came storming onto the scene.
For its second try
, Acer plans to hopefully capture the attention of people with its
ICONIA TAB A510
model – admittedly, it's a tough catch considering there's also the A700.
We weren't necessarily blown away with the design of the ICONIA TAB A500, mainly because it felt rather cheap in overall build quality, but thankfully that's not the case this time around. In fact, we have to commend Acer for
improving
the choice of materials and build quality found on the ICONIA TAB A510 – with its sturdy metallic feel accented by its rubbery coating in the rear. Despite employing a very
straightforward tablet design
, we do like how this one is a bit more
streamlined
.
Flaunting more improvements, we actually adore the better display and processor on hand with the ICONIA TAB A510. Specifically, its
10.1" 1280 x 800 display
is piercing to the eye thanks to its strong luminance and wide-viewing angles – while easily being a complementary treat to the
Android 4.0 Ice Cream Sandwich experience
on the tablet. Furthermore, the
1.3GHz quad-core NVIDIA Tegra 3 processor
makes the A510 perform almost flawlessly with almost all operations. Barely giving this bad boy a workout, we have to admit that we're astounded by its lightning fast operation.
Considering that the ICONIA TAB A700 is
deemed as a higher-end model
over this one, we're hoping that Acer justifies the price of the ICONIA TAB A510 very aggressively. For the features, you can't help but keep this one in mind if you're shopping around, but of course, we have to wait until pricing is revealed to know you'll be getting the most bang for the buck. As it stands right now, there's no mention of an official release date, but from what we checked out, it seems to be almost ready!