ATT selling 100,000 smartphones a day, on pace to shatter quarterly record
9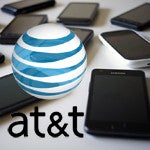 So much for a
slowdown
in the U.S. smartphone market. AT&T reports that they sold 6 million smartphones in the first two months of the quarter, and are selling 100,000 more every day. This puts them on pace to shatter their previous record, of 6.1 million smartphones, which they sold in Q3 of 2010.
Part of those numbers can be attributed to
Apple's iPhone 4S
, which went on sale in October and immediately started
setting sales records
. According to John Stephens, AT&T's Senior Executive VP and CFO, the sales are also a reflection of the strength and diversity of their smartphone lineup.
Stephens also touted the importance of their HSPA network with the iPhone 4S, claiming that customers recognize the advantage of the faster data rates AT&T can offer to new iPhone buyers, as well as their simultaneous voice and data services.
If the torrid pace of 100K smartphones a day continues through December, AT&T will move as many as 9 million smartphones this quarter, a 50% increase over their previous record. It looks like a very merry Christmas indeed for AT&T this year.
source:
FierceWireless