AT&T to start using iPads as POS systems at retail stores
8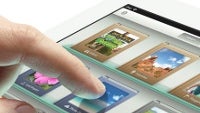 AT&T is planning on getting rid of all the counters at its retail stores. Those computers that employees use to check inventory or to view subscriber information are also to be phased out over the next few years. The carrier is totally going 21st century with its plans to overhaul its outlets by deploying iPads for all of its stores' POS needs.
Currently, AT&T store representatives use an application called OPUS, which runs on desktop computers and handles things like product sales, user account management, and internal communications. Over the next two years, however, the software will be adapted to work on the iPad. As a result, there will be no need for counters to be present at AT&T stores as employees will be capable of conducting all operations using nothing but the tablet. Furthermore, the overhaul should eliminate the need for users to wait in lines. Instead, AT&T representatives will be able to easily assist subscribers right there on the sales floor.
It is being reported that a trimmed-down version of OPUS is already being tested at some retail locations, allowing employees to perform some basic tasks straight from an iPhone or an iPad. By early next year, AT&T intends to start deploying iPads running the software's full-featured version at a number of its retail stores. To ensure seamless operation, these iPads will be connected to their own designated Wi-Fi access point with enhanced security.
It is not yet clear how credit card information will be read by the tablets, but it is quite possible that a proprietary card reader of some kind will be utilized. Of course, cash payments will also be accepted, yet those will be handled at a centralized cash drawer.
Recommended Stories