AT&T has network problems?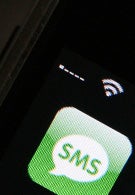 On the same day that Apple's touchscreen delight can be bought at a Wal-Mart or Sam's Club near you, the gerbils stop spinning the wheel and Ma Bell's network drops out. According to readers of
BoyGeniusReport
and
Engadget
, customers are having problems with the AT&T network in different parts of the country. Some have problems connecting to 3G or using the BlackBerry service, but some report that they cannot make a single phone call. BGR says that AT&T has confirmed there are network troubles, but without specifying which regions are affected.
Do you have problems with AT&T or you are blessed to be in an area with good signal? Please, tell us in the comments.