AT&T has great 4th quarter, nets $3 billion for the period
28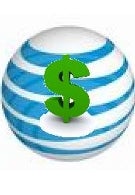 Maybe Luke Wilson is a good luck charm after all. For the fourth quarter, the Wireless division of AT&T added 2.7 million new customers-the second best net additions in a quarter for the company- bringing the number of new accounts to 7.3 million for the year. That ties the record for an annual gain in accounts. AT&T Wireless now serves 85.1 million subscribers. The churn rate for the three months was the best ever for Q4. The numbers were 1.19% for post-paid and 1.44% overall.
3.1
million iPhones were activated in the period, the second highest quarterly total thus far. The ARPU (Average Revenue per each postpaid subscriber) rose 2.6% year over year for the 8th consecutive quarter. Revenue for additional data services like messaging and access to apps rose a strong 26.3% from the prior year to $3.9 billion. While the company didn't break out earnings for the Wireless division separately, the company as a whole earned $3 billion, up 26% from the $2.4 billion earned last year.
The 2.7 new additions topped the 2.2 million new customers at Verizon Wireless, the Nation's larget cell carrier. However, of the 2.7 million, only 910,000 were added under contract compared to Big Red's 1.2 million contract additions in its last quarter. Still, the telecommunications giant seems to have the early lead on non-phone cellular devices like E-book readers, adding 1 million such non-phone accounts in the 4th quarter. The carrier has deals to provide service for the newest versions of Amazon's Kindle, Sony's Reader and Barns and Noble's Nook.
In other news, AT&T said it is ahead of schedule in upgrading its 3G network to the 7.2Mbps speed of HSPA. Ten AT&T handsets, including the iPhone 3GS, are currently enabled for the new pipeline. The company also defended the quality of its network, saying that enhancements have been made in high data usage areas like San Francisco and New York.
source:
AT&T
via
Yahoo
,
NYTimes