A Korean media rekindles rumors of a Galaxy Note 3 with flexible display, claims it's coming next month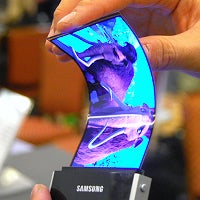 Despite the fact that the SamsungGalaxy Note 3 ranked among the biggest product launches in the mobilespace this year, with all that's been going on, Sammy's phablet hasbeen pretty much forced into the back of our minds. As you can guess, that's amarketing division's worst nightmare, so it does make sense that themedia should start drumming about it once again. Fortunately for allinvolved, in this particular case we don't mind at all.
Whydon't we mind? Well, it's because of a new rumor that has shot theGalaxy Note 3 right at the top of our consciousness once again – alimited edition Galaxy Note 3 with a flexible display may finallyfind the key out of science fiction aficionados' imagination andbecome reality as soon as next month!
Sure,this certainly isn't the first time we hear about the tech, andSamsung'sinvolvement in it. There was even apretty persistent theory back in the days before the Note 3'sunveiling, claiming that the phone will come in three variants. Thoseincluded the Note 3 that we know, alower cost LCD variantof it, and a special edition with aflexible display. Whether you're a believer in the aforementionedtheory or not is entirely up to you, as at this point – it reallyfeels like it can go either way.