8 small, light, portable power banks and battery packs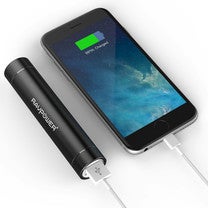 Electrical energy is to a smartphone what pepperoni pizza and Mountain Dew are to us. It is what makes our gadgets work. Without it, we wouldn't be able to look up recipes for nacho dips or ask Siri how tall LeBron James is whenever we please. That is why providing our handsets with power whenever they need it is kind of important. Alas, today's smartphone batteries are very limited in how much charge they can hold. Even the top models out there go from full to zero after a day or two of regular use.
Power banks – those handy dandy portable battery packs – aim to solve the problem of smartphones' unsatisfactory battery life. They do so by storing extra charge inside of an external battery, which you may connect a phone to using its USB or Lightning charging cable. And power banks come in various shapes and sizes. Some are big, heavy, and bulky, but hold enough power to recharge a smartphone multiple times. Others are built with portability in mind. They can't hold quite as much power, but compensate for this by being extremely light and pocket-friendly.
This post is about the latter type of power banks. The models we have here are all designed to make your life easier by occupying very little space in your pocket or carry-on luggage. Yet they can bring a dead phone back to life in a jiffy. Check them out in the slideshow below!