78% of Apple iPhones and iPads released over the last four years have iOS 12 installed
17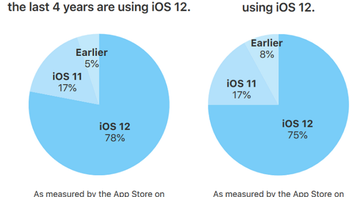 According to Apple's support site
, 78% of all Apple iPhone and Apple iPad units released over the last four years are running iOS 12. That's quite an impressive figure considering that iOS 12 was launched just three and a half months ago, and the number overwhelms the miniscule percentage of Android phones powered by the latest Android 9 Pie build. To be fair, Apple is the only manufacturer of iOS powered devices, while there are too many Android manufacturers to count.
Apple used a pie chart (a coincidence or a shot at Google?) to show that in addition to the 78% of iOS devices released over the last four years that are using iOS 12, 17% are running iOS 11, and 5% are powered by an older version of Apple's mobile OS. Another pie chart shows that 75% of all iPhone and iPad models run iOS 12, 17% run iOS 11 and 8% have iOS 10 or older installed. On December 4th, 72% of recent iOS devices and 70% of all active iOS devices were powered by iOS 12.
Similar to how Google comes up with its monthly distribution numbers, Apple looks at the different versions of iOS found on iPhone and iPad models that visit the App Store. The latest figures are based on the devices that visited the App Store on January 1st, 2019.