$4400 for an iPhone 5s? Yes, if you want it in gold, platinum or rose gold
99+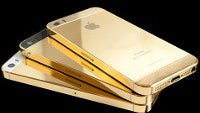 London-based GoldenGenie is a companyso obsessed with luxury materials that it'll embellish prettymuch anything you can think of in either gold, platinum or rose gold.Some of you may remember its latest conquest that we reported: theHTC One. Tacky or not, at the time (and even now) we've got to admitthat the One looks stunning, especially in rose gold. Of course, oncewe saw the price tag on that thing, we were as equally stunned – itranged from $2900 for the 'cheapest' model with gold, and went rightup to $3200 for the platinum HTC One.
But, the HTC One, as much as likeableand stylish as it is, is slowly fading from relevancy, for its allabout the iPhone 5s right now. Sure, that one hasn't really changedmuch in comparison with its predecessor, but there's no denying thatit's currently the popular kid on the block. Which is probably whyGoldenGenie went farther than usual in its treatment of the iPhone 5sand now offers the phone in 5 different styles, all of which (but one) customizable with your preferred material (gold/platinum/rose gold).As hinted in the title, pricing goes all the way up to about $4400 for the priciest model.
If this has caught your attention,then feel free to join us for some window shopping right below.
source: GoldenGenie