4 feet tall Android cooler takes only a month to build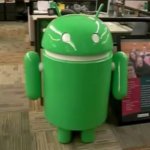 You've got to love the ingenious stuff that some die-hard fans of Android are able to concoct, but there is nothing like building a life sized Android that's able to provide you a refreshing cold beverage straight from its vessel. Well, that's exactly what we find as an Android fan took the time to build from scratch a life sized Android model – with a cooler covertly integrated into its body.
Now this isn't something you can simply order online or something, oh no, but instead, it took nearly a month for this one individual to craft from scratch. The project in creating this 4 feet tall Android required plenty of wood, fiberglass, and foam to ultimately come up with the final product. As we said, it spans at 4 feet tall and approximately 42 inches wide with the arms – so it's no small replica of the beloved green Android.
Now what makes it more interesting is the fact that a built-in cooler is placed inside and is accessed by essentially lifting its head up. Not only does this stellar work of art finely replicate the green little guy to the teeth, but the inclusion of a cooler can be beneficial for those hot summer days.
via
Daily Mobile