35% of Americans older than 16 own a tablet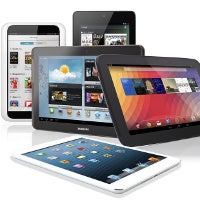 35% of Americans aged 16 and older now own a tablet. That news comes from the latest data released by Pew. The survey took place from July through September and covered 6224 Americans. The results suggest that 24% of Americans are sporting an e-reader. Closing in on half of those asked, 43% reported owning either a tablet or e-reader.
Those making a good income have been spending some of their cash on a tablet or e-reader. The number of Americans making $75,000 a year or more with a tablet has risen from 25% to 50% over the last year. 38% of Americans in that salary bracket now own an e-reader, double the 19% who owned one last year. What makes these figures so electric for tablet and e-reader manufacturers is that there remain plenty of Americans still without a slate or e-reader that are going to be in the market for one or the other.
source:
PewInternet
via
BGR