32% of U.S. tablet buyers have their sights set on an Apple iPad
73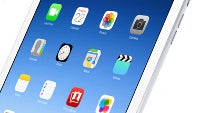 A survey done in the U.S. by The Yankee Group of potential tablet buyers 13 and older, shows that after the Apple iPad, many consumers have no idea which tablet to buy. Of the 4000 surveyed, an impressive 32% said that their next tablet will be an iPad. That was followed by the 23% who replied that they were not sure which tablet they would buy. Next came the 8.5% who are planning to purchase an Amazon Kindle Fire tablet, and the 7.7% who have their heart set on a Samsung branded slate.
The rest of the names on the list include the Google Nexus slabs, the next tablet buy for 6.3% of those surveyed, tablets made by Acer (5.1%), and the Microsoft Surface tablets (3.4%).
"While other manufacturers are also launching tablets this week- Nokia announced its tablet in Abu Dhabi and Microsoft started shipments of its Surface 2 tablets-we believe that this announcement will keep Apple in the lead in tablets. It now has a full family of iPad products: the iPad mini at U.S.$299, iPad mini retina at U.S.$399, iPad 2 at U.S.$399 and iPad Air at U.S. $499."
-Carl Howe, VP of Research, Yankee Group
Yankee Group VP of Research Carl Howe noted that even though Nokia has just announced its
Nokia Lumia 2520
tablet, and Microsoft made some major spec changes to the
Microsoft Surface 2
, Apple's unveiling on Tuesday of its new iPads will keep it in the lead. Consider that the new
Apple iPad Air
and the
Apple iPad mini with Retina display
will launch in 42 countries including China, versus the 34 countries that the
Apple iPad 4
and
Apple iPad mini
launched in last year.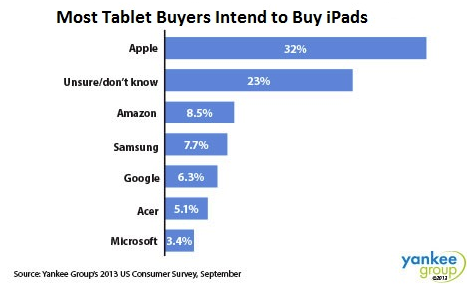 Nearly one-third of those surveyed in the states are planning to buy an Apple iPad as their next tablet
source: YankeeGroup via
Forbes