3000mAh portable battery pack doubles as a wall charger for smartphones and tablets
9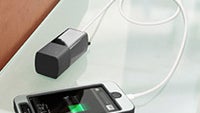 Portable battery packs
can be a hardcore smartphone user's best friend. They provide the power needed to recharge a smartphone or tablet whenever there's no power outlet around. However, the drawback of these portable batteries is that one must always make sure they are charged, as otherwise, carrying them around is useless.
Meet
juiceBee
- the gizmo that tackles the aforementioned problem. Basically, it serves as both a wall charger, providing 2 amps of USB power, and as a rechargeable battery pack that easily fits in a purse or a backpack. In other words, charging your phone or tablet will also recharge the accessory's cell. juiceBee has a capacity of 3000mAh, which should be enough to completely recharge most smartphones at least once. Moreover, it comes with a built-in surge protector, protecting the device being recharged from potentially harmful voltage spikes. And if that's not enough, the device comes with a built-in LED light that serves as a bright flashlight. A juiceBee model for use with a car's lighter port is being planned as well.
But the juiceBee isn't available at your local electronics store, or at least not right now. It is currently just a project that needs to raise additional funding via Kickstarter and it has 19 more days to reach its $50 000 goal. If you like the idea of juiceBee, go check it out. A $49 pledge will get you one of them in October, assuming sufficient funding is collected.