This awesome 15W fast wireless car charging mount is now 50% off at Amazon, deal ends soon!
6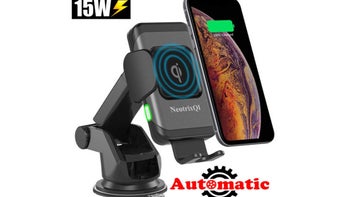 f you're looking for a way to quickly charge your phone in your car, you have to check out Amazon's latest deal. The highly-rated 15W Lenture car charger, a combination between an air vent car mount and a Qi-enabled fast wireless charging pad, is now 50% off at the e-commerce site. To get the discount, simply enter the code
NEOTRIXQI70
at checkout.
This gadget is compatible with both iPhones and Android phones. Apple's handsets can be charged up to 7.5W while high-end Android devices can get up to 15W. However, keep in mind that you will need a car charger with Quick Charge 2.0 or 3.0 to get fast charging, and you'd have to buy one separately, as the device only comes with a USB-C cord, but no adapter.
A great feature of this Lenture model is the fact that you generally won't need to take off your case in order to use it. It can transmit power even through heavy-duty cases that are as thick as 5mm, meaning that even those of you with OtterBoxes should be able to use the device without any hassle. Another nifty addition is that the item features a built-in sensor that automatically opens and closes the clips that secure your phone with the press of a button.
If this deal interests you, feel free to follow the below widget to Amazon. Remember to enter
NEOTRIXQI70
at checkout to get the discount. Keep in mind that the code expires soon.