$100 will nab you Verizon's sweet Samsung Galaxy Nexus through Amazon
19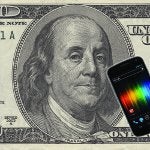 Soon after it made its official arrival on Verizon's lineup, the sole Android 4.0 Ice Cream Sandwich packing smartphone in the US, the indomitable
Samsung Galaxy Nexus
, went through the usual
Amazon
ritual of being graced with a significant price drop. Well, there's no arguing that its
previous $150 on-contract pricing
was a killer thing, but it's naturally being lowered to make it even more affordable.
With the usual routine, Amazon has chopped the price of the 4G LTE equipped Samsung Galaxy Nexus by another $50, this, bringing its cost of ownership to new customers to
$99.99
. Simply, all you'll need in your pockets is a single $100 with good old Benjamin Franklin smiling inconspicuously, though, you'll probably be using it later on to pay off the credit card you'll be using for the purchase.
Needless to say, that's a fantastic price point for this top shelf smartphone, but for those
upgrading
customers, the love isn't quite as great – well, that's because they'll need to shell out a whole lot more. Specifically, they'll need to plop down
$259.99
to pick up the handset, which is substantially more out of pocket, but it's still cheaper than the full $299.99 you'll need when buying it from Big Red.
free shipping
is included with the purchase, so all you'll need to worry about is the upfront cost for the smartphone. Sure there are newer devices on Verizon lineup right now, like the LG Spectrum, but when you take into account that the Galaxy Nexus is still the only one running ICS, and priced remarkably at $99.99 through Amazon, it's easily a steal in anyone's book!
source:
Amazon
via
Android Central