Skulpt Aim Review
3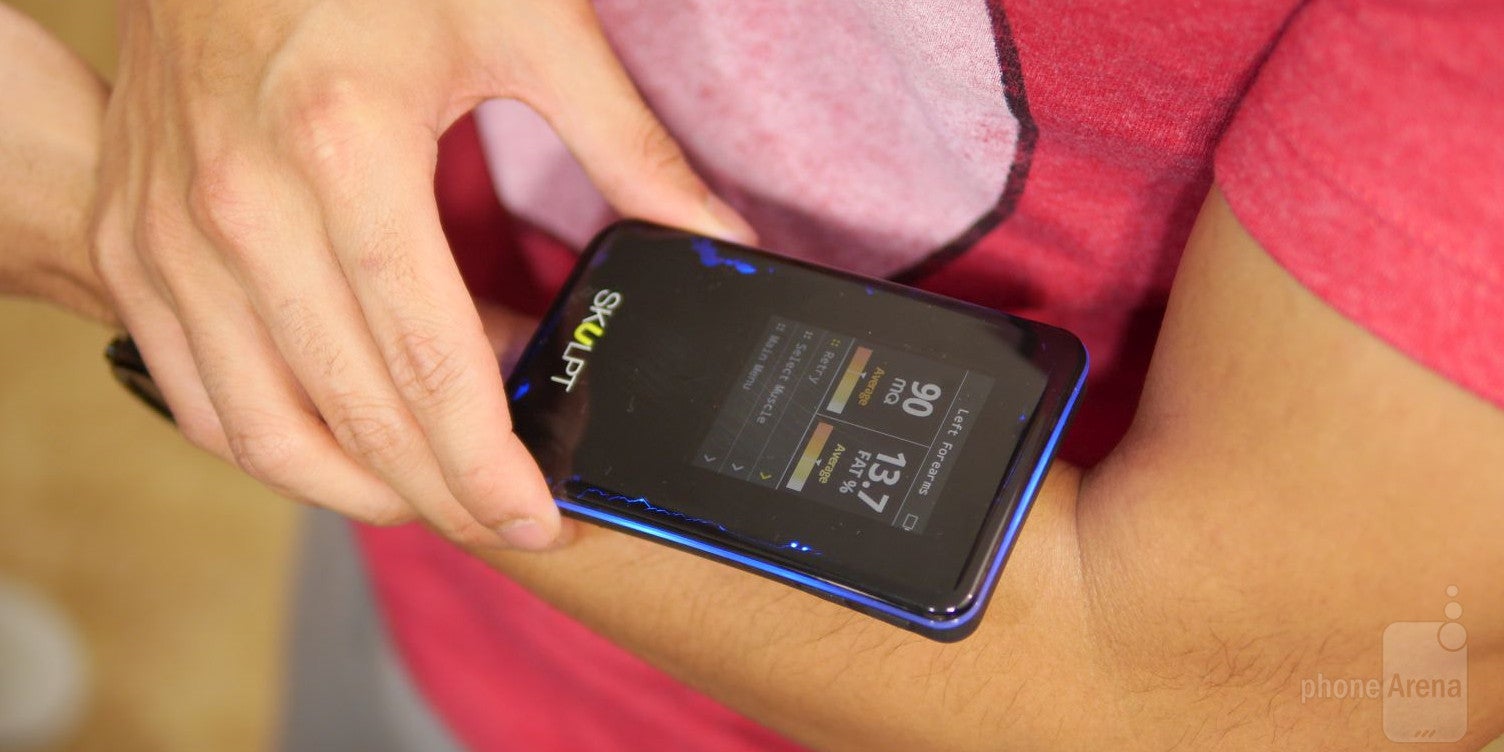 Fitness and technology have been combined in several ways to deliver products that aim to enhance our quality of life. Already, we've seen wearable fitness trackers like Fitbit that try to promote wellness in the form of achieving step goals – or the various fitness apps that do things like monitor your improvements with sit-ups or push-ups. Another new specialized fitness gadget, the Skulpt Aim, is setting its sights on giving hardened fitness junkies the real word about their progress or regress. Essentially, what we have here is this smartphone-esque looking gadget that's used to measure body fat percentage and muscle quality (MQ).
At first glance, the Skulpt Aim can be mistaken for a smartphone – albeit, a beefy and thick sized one at that. For the most part, when it's not on, the Skulpt Aim has a clean design that's quite reserved in tone. Constructed out of plastic, where the majority is covered by this rubbery-like coating, which makes perfect sense because it's meant to absorb moisture when used. Along the edge, there's a thin translucent bezel that allows light emitted from within the Skulpt Aim to go outwards – so that it appears to glow.
Things become interesting when we place our attention to the back of the Skulpt Aim, where there are various sensors that send out a small amount of current directly to the muscle that's being measured – and from there, it's able to analyze it and provide us with fat percentage and a muscle quality figure (we'll talk more about it later). Rounding things out, there are a few buttons on its sides to help us navigate through the simple UI that's shown on the color screen. The screen itself is tiny in comparison to what we find in our smartphones, but for something like this, it's pretty big – plus, it's usable too.
Even though you'll need a smartphone to retrieve and sync its data, you can use the Skulpt Aim independently. Going through the interface, we can choose what muscles we want to measure – or if we want, there's the "
Total Body
" option that generates an overview look of our fitness level. The measurement process is quick and easy, since we're required to just spray the sensor side with water, and then press it against the muscle we want to measure. From there, we're given that body fat percentage and muscle quality figure of that particular muscle. At the same time, it shows us whether or not it's classified as amazing, fit, average, needs work, or unfit.
Frankly, the Skulpt Aim isn't afraid to tell us the truth – the real truth. Where other gadgets might try to encourage you, despite not reaching a certain goal, the Skulpt Aim will tell the truth regardless. In our experience, it's pretty accurate in being able to distinguish muscles that are actually "
fit
." For example, we measured our calves, which are pretty defined just looking at them, and it returned a rating of "
amazing
." Conversely, we weren't as confident with our abs – receiving the "
average
" mark by Skulpt.
One area of opportunity is the Skulpt app, which is available for Android and iOS devices. Naturally, it's the hub where we can better navigate through all of the measurements obtained by the Skulpt Aim, but there's really no substance backing the results. What do we mean? In the app's current state, we can review all of the data, obviously, but we're only able to see them from a daily view – there's no weekly or monthly progress view. However, we're told that future updates will bring along them. Additionally, we really hope that the app receives coaching and social networking features to further strengthen its use.
The Skulpt Aim isn't for everyone, that's just the undeniable truth. Rather, it's a specialized fitness gadget that hardcore fitness enthusiasts will appreciate – and make good use out of. As much as we love being able to measure the quality of our muscles, its $200 price is pretty steep for any specialized thing. When paying for something so much, you'd expect a solid and durable thing, but we accidentally dropped it once from a height from 4 feet, and it didn't look too pretty afterwards. Nevertheless, it somehow was still functional, but we expect something that's more solidly constructed – more so when it's priced at $200.
All told, you'll have lots of fun sharing measurements obtained by the Skulpt Aim. Heck, there's a competitive aspect to it as well – where you're trying to improve the results, to help push you into the "
fit
" or "
amazing
" category. There's still room for improvement, so that's why this will mostly appeal to hardcore fitness buffs.
Recommended Stories