Samsung T249 Review
1

Introduction:
The mobile industry is always making huge leaps and bounds in the upper end of the spectrum, but despite placing a lot of emphasis in that specific area, there will ultimately still be a demand for basic cell phones. Hence the
Samsung SGH-T249
for T-Mobile, from which a quick assessment of its exterior, will easily radiate itself as being a part of the entry-level crowd. Continually striving to accommodate the most lax cell phone users around, the $9.99 on-contract Samsung T249 should hopefully appease their appetite – so let's hope it can accomplish the essentials.
The package contains:
Samsung SGH-T249
Wall charger
Start Guide
Terms & Conditions
Design:
There really isn't anything worth noting since the look and feel of the handset has been emulated many times over with other devices – and the T249 certainly follows accordingly. Constructed out of some flimsy feeling plastic materials, this slider phone doesn't scream anything inventive, but then again, it's all about functionality with this one versus design. It's compact to hide inconspicuously in the pocket, while feeling light weight in the hand thanks to its choice of materials. In any event, its overall design is pretty much in line with its entry-level nature – so you really can't expect much out of it.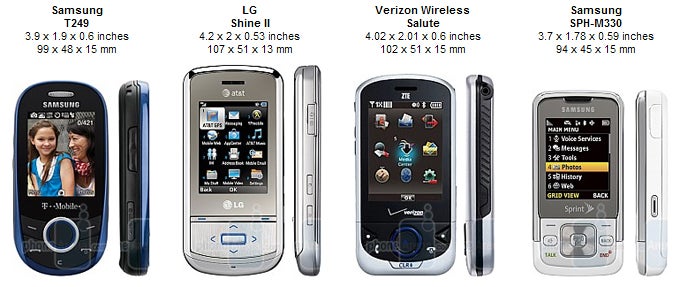 You can compare the Samsung T249 with many other phones using our
Size Visualization Tool
.
Feasting your eyes for the first time on its
1.8" display
, which has a resolution of 176 x 220 pixels with support for 65k colors, just might make you cringe due to its poor quality. Not only is it tiny, but its dull looking colors and poor viewing angles won't aid you in any way when attempting to view items on screen. You'll be required to view it at nearly a straight angle in order to see anything, because moving slightly away from it, will quickly fade your view. Naturally, it didn't hold up well in outdoor settings with the sun present.
The circular directional pad is quite functional with good feedback – especially the well-sized middle button which used to make a selection. In addition, the soft keys, send, end, and back/clear
buttons
are decently sized to accommodate just about any finger. By no means does it employ the most snappy opening mechanism, but nevertheless, it gets the job done without making it feel loose. Once fully opened, you'll find the numeric keypad which has a slight rubbery feel to them and is flush to the surface. Luckily, buttons are evenly sized and offer a decent click when pressed down – so you won't have any problems hitting them.
On the
left side
, you've got the adequately sized volume rocker, lanyard spot, and accessible microSD card slot hidden behind a plastic flap. While on the
right edge
, you'll find the raised dedicated camera button and microUSB port.
Flipping it over to its
rear
, you'll be presented with the 1.3-megapixel camera and speakerphone right next to it. Removing the rear cover can be accomplished by simply sliding it to one side, which will then give you access to the battery and SIM card slot.
Samsung T249 360 Degrees View: