Samsung Galaxy Grand Prime Review
18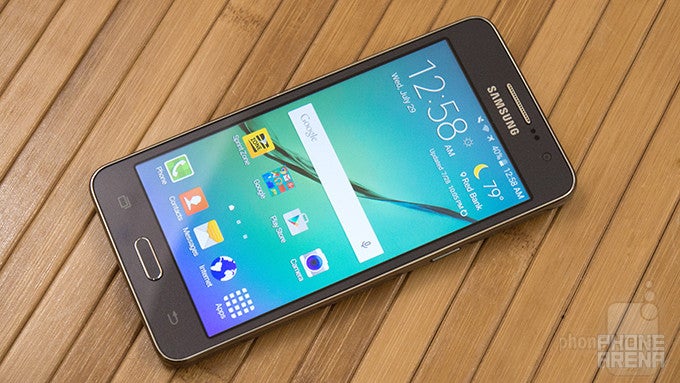 Introduction
History has shown us that Samsung is notorious for giving some of its phones ridiculously long model names. Anyone remember the
Samsung Galaxy S II Epic 4G Touch
? As much as we'd like the practice to stop altogether, it's still something that's well and alive today – like the
Samsung Galaxy Grand Prime
most recently, for example. With words like grand and prime, you'd envision something super spec'd, but alas, that's not the case here, as it's just an entry-level offering that aims to diversify Sammy's portfolio to cover all segments of the smartphone space.
The package contains:
Samsung Galaxy Grand Prime
microUSB cable
Wall charger
Stereo headphones
Get start guide
Important information
Design
Undeniably a Samsung design, it's bland and dull looking for the most part, but it's befitting for a low-end thing.
Distinctively employing the traits akin to its Galaxy line, the phone doesn't scream anything remarkable with its straightforward and dull design. Constructed out of plastic, it naturally asserts itself as a budget-friendly offering – one that luckily doesn't feel too cheap in the hand. In all fairness, the design is as bland and predictable as it goes for Samsung, which shouldn't be too much of a surprise considering low-end stuff like this don't normally get the royal treatment.
In true fashion to being a Galaxy branded phone, it features the same buttons and ports you'd find in other phones from Sammy – so that includes the power button along the left edge, volume controls on the right, 3.5mm headset jack on the top, and a microUSB port on the bottom. Yes, it even has the line's distinguishable physical home button, flanked by capacitive buttons for back and recent apps. With this, however, the rear plastic cover can be removed to gain access to its battery, SIM, and microSD slots.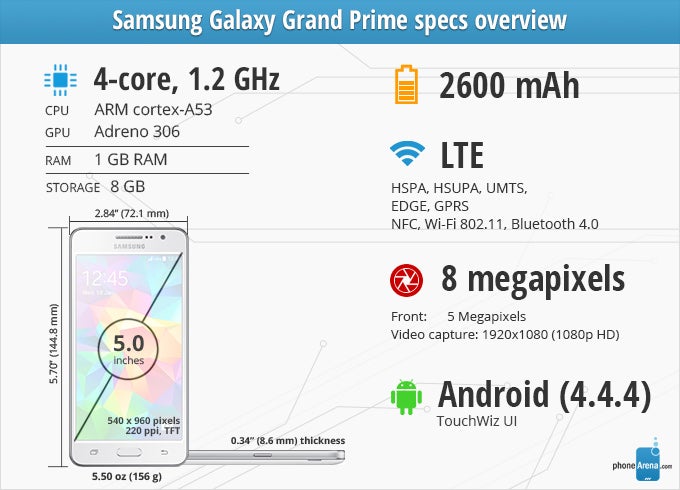 Display
Don't expect much out of the display, it matches the phone's bland and boring attachment.
Traditionally, Samsung favors using AMOLED screens in its high-end devices, but for this lowly Galaxy Grand Prime, it's treated to a 5-inch 540 x 960 (qHD) TFT display. While it's still effective for making things out from a normal viewing distance, it's something that requires closer inspection because of its softer visuals, which can be traced back to its pixel density count of 220 ppi.
Going beyond the details, there aren't a whole lot of characteristics to shed its reputation of being bland and boring as well. For one, its color temperature of ~7600K gives the screen a distinctively colder attachment – giving the color white a bluish hue. On top of that, we have a maximum luminance of 417 nits, visible distortion at wide viewing angles, and a color reproduction that favors a bluish undertone to varying degrees with the color magenta.
Display measurements and quality
Recommended Stories