Samsung Galaxy Alpha vs Apple iPhone 6
23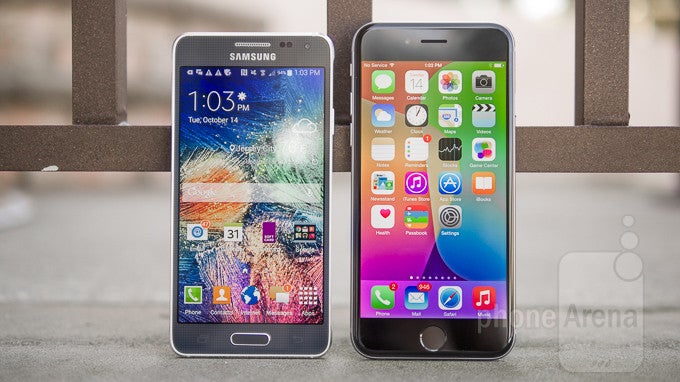 Introduction
Today's flagships are easily flaunting 5-inch and up sized screens, but not everyone believes that this is the perfect size. Lucky for them, we have two new entrants in the space, the
Samsung Galaxy Alpha
and
Apple iPhone 6
, which both feature 4.7-inch displays. What's especially important here, is that they're treated to top-notch specs and offer excellent all-around performances – so it makes perfect sense for us to pit them against one another to see which one comes out on top.
Design
Visually stunning from every design facet, it's refreshing to know that they're extremely compact as well.
Honestly, it's a tough call on which design we like better – partly because they're both compact in size, comfortable to hold, lightweight, and impressively premium in nature. Technically, it's the iPhone 6 is a smidgen taller, wider, thicker, and heavier, but it's almost hardy noticeable. Even though the Alpha is arguably the best designed phone we've seen from Samsung, thanks in part to its solid construction and metal trim bezel, its body is still comprised from mostly plastic. In comparison, it's a unibody aluminum casing with the iPhone 6.
Indeed, we prefer the iPhone 6's Touch ID finger print sensor over the one used by the Alpha, but Sammy's offering is packed with a couple of notable amenities. Specifically, they include a sensor to measure our pulse rate, and a removable battery.
Display
There are more pleasing qualities with the iPhone 6's display, especially knowing that the Alpha's screen uses a PenTile Matrix pixel arrangement.
Like we said, they both offer 4.7-inch sized screens, but they employ different resolutions and display technologies. Although they're not necessarily ground breaking in comparison to what's out there, the iPhone 6's 4.7-inch 750 x 1334 Retina display bears a few more pleasing qualities that catch our attention more – like it being slightly more detailed and brighter. Well, the Alpha's 4.7-inch 720 x 1280 Super AMOLED display is still nice, especially when its color accuracy is improved over past AMOLED screens, but it resorts to using a PenTile matrix pixel arrangement, which doesn't make it look as sharp as the iPhone 6's display.
Display measurements and quality