Parrot Party Review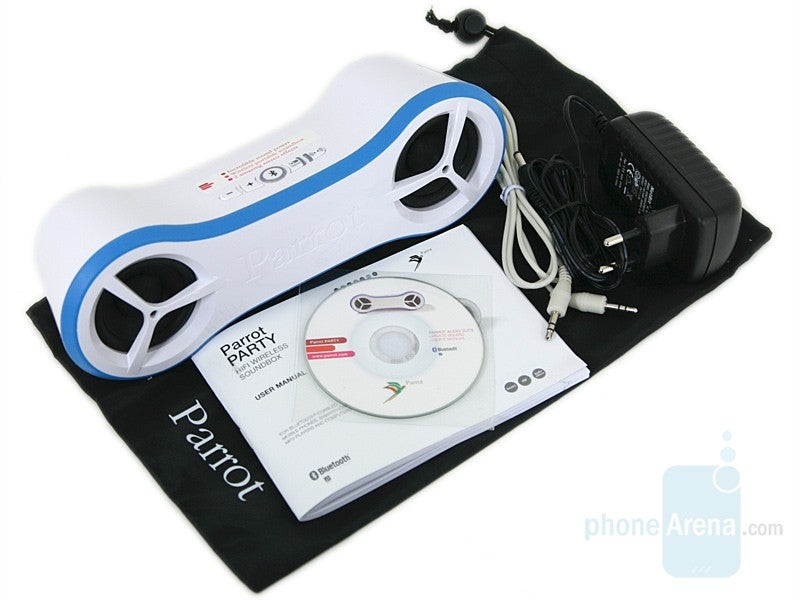 Introduction:
Imagine the following situation – a friend of yours invites you to a party on one condition, if you "bring music". Just a few years ago this meant moving a PC (laptop in best case scenario), speakers and many cables. Nowadays you only need to take your cell phone (Stereo Bluetooth capable one), loaded with your favorite music and a portable Bluetooth Soundbox. In other words, you need something like Parrot's Party.
Design:
Party is a combination of two symmetrically positioned speakers united in a massive body. Being all white (aside from the blue light following the edge of the front panel), with its soft oval shapes, it is clear that the product targets the young generation and it would not fit at a business dinner. The main material used is plastic. Except for the edge line, mentioned above, which is rubber-coated, and transforms into two supports in the bottom, ensuring the stability of the device. Currently the product is offered in that color only and it would be good if the manufacturer comes up with other variations in the future.
With dimensions of 228x79x85 mm at 1.4 lb, Party is the most compact soundbox Parrot offers and is a rival to the Nokia's MD-5W (213x58x54 mm and 0.8 lb)
All the buttons are positioned in the upper part. The biggest one, assigned for the Bluetooth modes is in the center. It is surrounded by a light indicator, which lights up in different colors (blue, red and purple) or color combinations depending on the regime the device is at the moment. The two volume control buttons are located on the left and the two on the right are for the Virtual SuperBass and Stereo Widening. The small size of the first two and the fact that they are positioned so close to each other can be pointed as one of the main drawbacks. They are also the only controls lacking any light indicators and can be very easily pressed by mistake. On top of that, the button for turning the sound down is very sensitive and if held pressed for a bit longer it mutes the system.
The power button, the charger input and the 3.5 mm stereo jack, which you can use in order to connect the Party to another device, are located on the back.
Recommended Stories