Microsoft Foldable Keyboard Review
6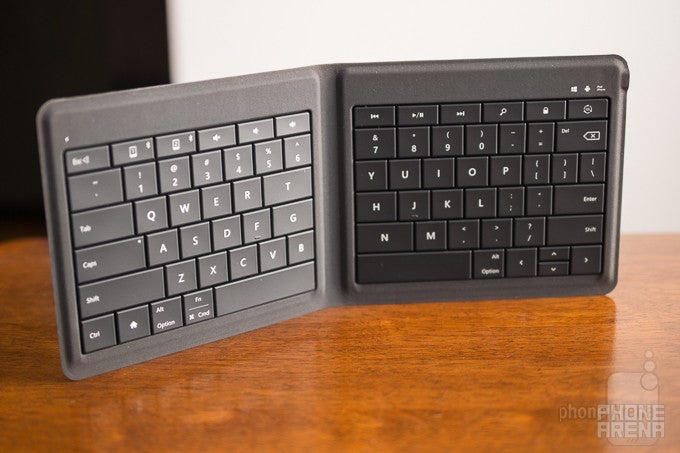 Introduction
Branching out further into the consumer electronics space, Microsoft has seen a great deal of transformation over the course of the last few years. No longer are they just a software company, moving deeper into the hardware space as well. During this most recent Mobile World Congress, the company made its intentions clearer by slapping its name on Nokia's Lumia line of smartphones. On top of that, we were introduced to the Microsoft Foldable Keyboard – a uniquely designed keyboard that the company takes pride in being compatible with not only Windows-based products, but Android and iOS too.
The package contains:
Microsoft Foldable Keyboard
microUSB cable
Product guide
Limited warranty information
Design
Right from the onset, it's plainly obvious that there are Microsoft influences in the design of this particular keyboard. In fact, it follows similarly to its line of Touch and Type keyboards for its Surface tablets. That's profoundly true due to its incredibly thin construction and choice of materials. For a keyboard with a full QWERTY layout, it manages to cram everything into a compact package because of its foldable design – one that collapse right through the middle of the keyboard.
With this particular design implementation, the entire thing is able to fit into a square shaped thing with a slim 0.45-inch profile! Not only is it razor svelte, but it's also light enough to feel inconspicuous when it's being carried around. Quite frankly, we love its portability, enabling it to occupy minimal space in a backpack or something.
Its resemblance to the Type keyboards for the Surface is direct, as it sports the same fabric-like outer material and chicklet style keys. Better yet, it features a spill-resistant design that safeguards it from minor accidents – such as spilling your drink because of the lack of sleep from the night before. In that regard, it's a quality that we don't see in other similar, portable keyboards in the market right now. And surprisingly enough, too, we have little worry in the unfortunate event it's dropped by accident. The combination of it being lightweight and skinny does nicely to mitigate any damage.
Held together by a magnetic connection, the keyboard stays firmly shut and intact when it's not being used, and at the same time, it's smart enough to power down – and vice versa, power on when it's opened up. Fully exposed, we're greeted to a full QWERTY layout that's found in any other keyboard. Going beyond that, though, it's able to accommodate directional keys, a useful home button, media controls, and dedicated buttons to effortlessly switch between two devices.
Just like the Type keyboard for the Surface tablets, this keyboard relies on evenly flushed chicklet styled keys, which is warranted in order to keep its skinny figure. While there's no spacing whatsoever between keys, there's still enough travel and tactility when they're pressed – ensuring that it's not too sensitive to our liking.
Recommended Stories