iPhone catches fire, forces evacuation of aircraft
79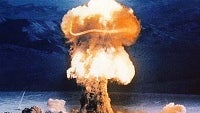 If there is going to be a problem on a commercial aircraft, dealing with that problem while the plane is on the ground is preferable to the alternative.
A flight that was preparing to embark on a trip from Tel-Aviv, Israel to Prague, Czech Republic. The 150 or so passengers were boarding and getting settled when one girl opened her purse noticed a problem with her iPhone.
According to witnesses, Yardin Levi's
iPhone 5
was in flames and started spewing smoke throughout the aircraft cabin. As one might imagine, seeing something burst into flames on a plane, flying or not, was not a soothing influence on the passengers, and those that did not see the phone, but saw and smelled the smoke were even more alarmed.
The crew had everyone disembark the plane while officials checked things out. There is one picture from Mr. Blurry-blue-ish-cam, and it does not offer much explanation as to what might have caused the fire. No one was hurt. Yardin had to leave her toasted phone behind in Israel, but everyone was allowed re-board the plane and make the trip to Prague.
source:
AndroidPortal.sk