iPhone 3G, OS 2.0 now available
29

Today is a big day for every true Apple fan. It's the day when iPhone 3G is released on the market around the world. A little over a year after the first generation became available, 3G will try to repeat its success. Even though the excitement is not as big as in 2007, in every country getting the second generation, queues have started to form days ago. People camp in tents just to make sure they are among the first ones to get their hands on "the best iPod". Read below if it's worth it.
When announcing the second generation iPhone, Steve Jobs killed the dreams of many fans, revealing that it will fix the biggest hardware drawbacks (lack of 3G and GPS) but won't be an entirely new device. It's based on the original one with nearly the same design and functionality.
The look is almost absolutely identical. The speculations for a higher quality materials didn't prove correct and the only change in this aspect is that the high-quality feel of the metal back is now missing, replaced by plastic. Although some will not like it, others will appreciate that the weight didn't get larger and that the 3G will be offered in two color options: with white or black back.
The other rumor, giving the iPhone a slimmer body, also proved to be wrong. Overall, the 3G variant has the same thickness and size with the first generation, being slightly slimmer in the edges only. However, the difference is so minor that nobody will notice it, unless they compare both side by side.
The third and last variation in hardware aspect is the redesign of the 3.5 mm jack for stereo headphones. iPhone was touted as the best iPod when it was announced, but what is a PMP without a decent pair of headphones? – Nothing. A design flaw in the original iPhone didn't allow the customer to use just any 3.5 mm headphones, as the jack itself was deeply in the body and only some models were able to connect. This lead to "Designed for iPhone" branded headphones, and greatly limited the options. This problem is now solved in the 3G and you can plug and use just any 3.5mm 'phones.
That's all for the hardware part, and what about the software?
Well, actually nothing too great in the 3G. Don't get us wrong: the new iPhone 2.0 software really has some (probably great) benefits, but it will be available for free to users of the original iPhone, so it is not exclusively for the owners of the second gen. Kudos to Apple for allowing their customers to stay up-to-date.
Searching through the contacts list is now possible, inputting via the on-screen QWERTY. If you don't like scrolling through the whole list, you will definitely be happy about this feature.
Push email is now supported straight out of the box, thanks to Microsoft Exchange. Apple clearly targets the iPhone not only as a multimedia device but also as an enterprise smartphone; now with push email, it can really try to compete with Windows Mobile and BlackBerry phones.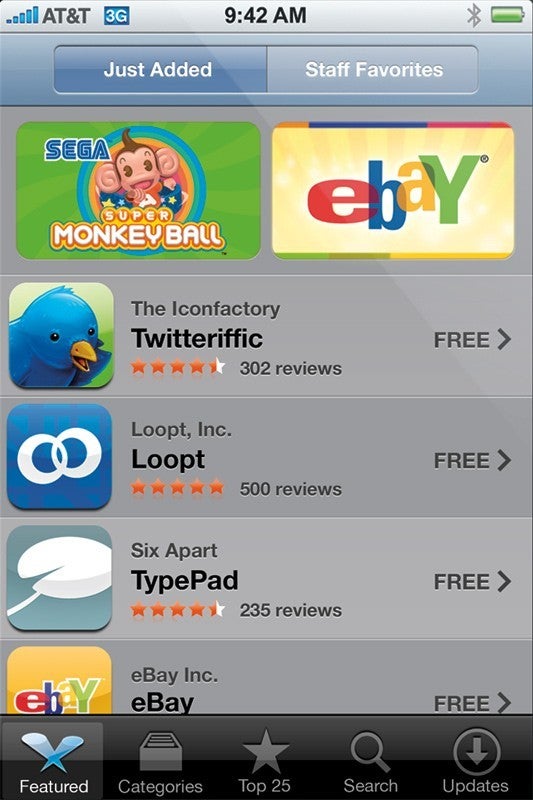 The App Store
But what else was missing in the iPhone, to be called a smart phone? The option to add functionality by installing applications. Although it was made possible with the Installer.app appearing on jailbroken (unlocked) devices, it was not officially supported by Apple. Not anymore. The 2.0 software comes with the Application Store, for which Apple released an SDK. Currently, there are over 500 applications available for download. Steve Jobs said that 25% of the content will be free and 90% of the rest will be offered for $9.99 or less. This turns the iPhone OS into the latest operating system for smart devices; and as the iPhone itself is now an extremely popular device, available (officially) in 22 countries (and counting), and loved by the developers (the 500 apps exceeded Mr. Jobs' expectations for about 200), it surely looks promising. Only time will tell if it will become one of the greatest smartphone systems, but we are optimistic about that.
However, unlike other operating systems, which are offered on devices by different manufacturers, the iPhone OS is used by Apple's phones (and PMPs) only. This means that if you want to use this OS, you are locked to one of the two iPhones. And although they surely are great devices as a whole, they still have some negative sides left unfixed in the second generation.
This includes some of the greatest software drawbacks of the iPhone: if you are heavy texter, email is still the only solution for exchanging photos - MMS is still not officially supported. If you are a fan of homemade videos, don't throw away your camcorder, because video capturing is not supported either. Want to listen to music on wireless speakers or headphones? – Apple won't allow you to do it and Bluetooth is locked for usage with mono headsets only.
Another unaltered gear is the camera; although it makes nice photos to be used as caller ID picture and they are OK for emailing, the 2-megapixel camera is definitely not a selling point. If you are on the market for a smartphone with large camera resolution, Windows Mobile and Symbian will offer you devices with 5-megapixels. The 3.5" 320x480 display is also the same as the first generation iPhone, but no bad feelings here – it is great. However, if you want a VGA or higher, look somewhere else.
After all, iPhone is iPhone. Apple's products have always had the fairy-tale look, leading numbers of fans who would give their lives, to protect the brand's name from those who do not understand them at all. It's really up to the person whether they're going to like this type of smartphone, but if you are hesitating, you should buy one. It is hard to describe "iPhone's magic" and only the people who have used it are true believers. It is unique in its class and no matter how hard some other manufacturers try, at least for now, they create different (not worse) devices. Give it a try and see; if you find yourself on the other side (opposing iPhone), you have 30 days to return it. Then, simply check out our comprehensive phone filter, to find the phone you need.
Expect our iPhone 3G Review soon.
Until then, please tell is if you get one and did it met your expectations.