iOS 6 metallic button bling is both unnecessary and awesome
16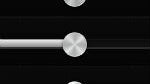 We all know at this point that Apple prides itself on its design, and notably on the design it puts into the smallest details of a product. Nothing shows that off more than what we have for you today with the new metallic buttons in iOS 6. Apparently, it has been found that the metallic buttons on sliders in iOS 6 (like volume sliders, etc.) have dynamic reflections which change as you tilt your device.
It is one of those small things that you probably wouldn't notice for a while if someone didn't point it out, but adds a pretty cool effect when you do notice it. Of course, it's also one of those details that makes you wonder if Apple couldn't have spent its time a bit better and instead of adding this effect, maybe the team could have been working on something like a widget system, or sound profiles. It's also a detail that happens to remind us that background processes in iOS are given a lower priority than UI processes. So, if you're downloading something in the background, the speed might drop just a tad when you tilt your phone, because the metallic buttons have to change reflection.
Still, it does look pretty cool, and that is the whole point, right?