You know all those sub-$200 7" tablets? Apparently its hard to make profits on them
17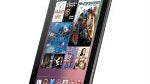 Just in case you haven't read a story that made you think "Thank you, Professor Obvious", here's one for you:
DigiTimes
has done some research (we're not sure that was necessary) and found that the price competition surrounding 7" tablets has caused profits to "erode". We bet you never would have thought that devices sold just above cost would cause a drop in profits, right?
Of course, we're not really talking about the Apple iPad mini in this, because Apple is going to get its profits, as shown with the $329 price on the mini. The real target of this are tablets like the Nexus 7, Asus MeMO Pad, and Acer Iconia B1. These devices are already priced aggressively, but the competition in the 7" market has caused Acer and Asus to drop the prices even further, which obviously cuts profits.
Additionally,
DigiTimes
found that unlike those who purchase 10" tablets, customers who choose 7" tablets are less likely to purchase accessories to go along with their new device, and accessories are often high margin items for manufacturers.