White iPhone 4: Will you buy it, if it's made available in the coming days? (Poll results)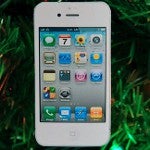 By now there is something of a consensus in the smartphone community that the launch of the white
iPhone 4
is imminent - the rumors about this handset just refuse to go away, and there is overwhelming evidence we are to see the pale twin of the already released iPhone 4 in the next few days.
That's why a few days ago we decided to ask you whether you plan to buy the white iPhone 4 if it's made available in the coming days, and the results show that most of you (or
42.67%
) voted that they find it ridiculous that someone will buy a year-old phone painted in white.
32.27%
of the participants in this poll said the white iPhone 4 is going to be a beauty, but they will wait a bit more for the
next version of the iPhone
, while the sole positive answer gathered only
20.06%
- these gents and ladies cited its special appeal and look as the reasons why they want to get that handset as soon as possible.