Update: Wirefly is steadily chopping away at the Samsung Fascinate - priced at $9.99
2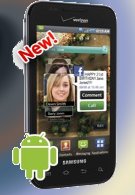 Being the newest Android device doesn't always necessarily mean that a premium price tag is in store for it, but for the Samsung Fascinate, we've been seeing a quick descent faster than what was previously speculated.
Still sporting a price tag of $199.99 with a 2-year agreement through Verizon's own web site,
Wirefly is yet again
leading the pack with its lowest pricing of the season – $9.99 with a contract! Now if that doesn't brings good news to your ear, then you may want to quickly look again at what Verizon is offering for it. Although the sweet deal is only available to new activations, existing customers with an eligible upgrade will be required to dish out $99.99 to get the handset – which is obviously more, but still far less than the $199.99 they would be paying through Big Red.
Shipping of course is included with the offer which makes it even better knowing that the only traveling you'll need to be doing is to the nearest computer to you. Slow creeping closer to that inevitable free proximity, this handset is more than worth it for the pricing you're paying.
Update: The competition is fierce when it comes down to aggressively luring customer, but Amazon is currently selling the same handset for $0.01. Quite an astonishing mark to say the least and is definitely more than agreeable on any budget! Still, customers with a qualified upgrade will still need to shell out $99.99 to get the handset.
Samsung Fascinate Specifications
|
Review
source:
Wirefly
&
Amazon